Sfoglia documenti (2 in totale)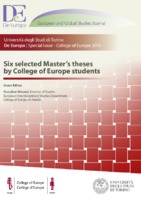 The issue, which comes at the initiative of Professor Umberto Morelli, is both a tribute to the close collaboration between the University of Turin and the College, and the fruit of much innovative work by the students of Natolin. The theses presented here were submitted in the academic year 2018-2019 of the Master of Arts in European Interdisciplinary Studies. They cover a wide range of topics, from the place of identity in Danish EU integration debates (Miro Folke Guzzini), to the importance of a strategy for culture in EU external relations (Merle Lioba Andraschko), to the impact of disinformation in our societies (Louis Obry), to the perception of Kosovo by external actors (Ela Brglez), to the EU's involvement in contested states such as Kosovo and Palestine (Hristiyana Stoyanova) and to the EU's security actorness in the Ukraine crisis (Mallory Tamain).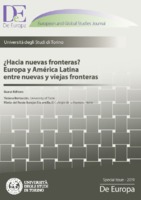 This volume is the result of the 2nd. Congress of the International Network of Comparative Borders Research (RECFronteras): "Towards new Borders? New and old frontiers in a renewed international system ", carried out in Turin, Italy on July 6 and 7, 2017. RECFronteras is an epistemic community that was formed in 2014 and has gathered around the study and understanding of the various phenomena that arise in frontier spaces from a comparative and multidisciplinary perspective. RECFronteras seeks to contribute to the debate about the processes of change that various borders in the world experienced. And the participation of several of our members in these discussions is essential to show the origin of the contrasting effects of globalization (economic integration/disintegration) in border spaces. The essays of this volume are organized into two groups: the first is composed of five articles that discuss from a broad perspective the processes of regional integration and their impacts on border spaces; the second group focuses on various analyzes on the effects of globalization on the mobility of people in border spaces as well as migration policies and their impacts on refronterization processes. As a manner of conclusion, the last work proposes a general reflection on how to address the problem of inequality in Europe.