Sfoglia documenti (2 in totale)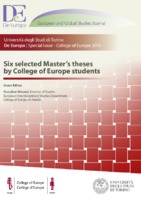 The issue, which comes at the initiative of Professor Umberto Morelli, is both a tribute to the close collaboration between the University of Turin and the College, and the fruit of much innovative work by the students of Natolin. The theses presented here were submitted in the academic year 2018-2019 of the Master of Arts in European Interdisciplinary Studies. They cover a wide range of topics, from the place of identity in Danish EU integration debates (Miro Folke Guzzini), to the importance of a strategy for culture in EU external relations (Merle Lioba Andraschko), to the impact of disinformation in our societies (Louis Obry), to the perception of Kosovo by external actors (Ela Brglez), to the EU's involvement in contested states such as Kosovo and Palestine (Hristiyana Stoyanova) and to the EU's security actorness in the Ukraine crisis (Mallory Tamain).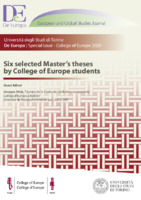 Le Collège d'Europe est une institution unique, composée de deux campus, à Bruges et à Natolin. Elle fait partie d'un petit nombre d'institutions universitaires qui ont produit et continuent de produire un si grand nombre de spécialistes de l'Europe, autant de cadres européens. Ses tâches principales sont d'enseigner les affaires européennes mais plus largement le rôle de l'Europe dans le monde. Pour ce qui est du campus de Natolin, ses marques de fabrique et d'excellence sont :
s'appuyer sur une riche interdisciplinarité destinée à développer tous les angles des études européennes,
créer une culture et un savoir sur l'Europe,
former les futurs cadres européens, citoyens imprégnés des valeurs fondatrices européennes et fins connaisseurs de l'histoire européenne et de sa civilisation.
Les mémoires de fin d'études, dont nous proposons ici une sélection, sont une forme de couronnement des efforts consacrés à l'obtention du Master avancé en Études européennes interdisciplinaires au Collège d'Europe à Natolin.