Sfoglia documenti (2 in totale)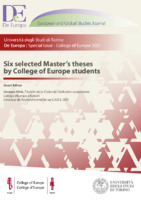 De Europa et le Collège d'Europe à Natolin se lancent pour la troisième fois consécutive dans la publication de meilleurs mémoires de fin d'études réalisés par les étudiants cette fois-ci de de la promotion 2020-2021 ayant eu pour patron « Mario Soares ». Chaque fois Il s'agit d'un échantillon de travaux qui se distinguent par leur qualité intrinsèque et par la diversité de centres d'intérêt avec un point en commun, d'être réalisés dans le cadre du Programme interdisciplinaire d'études européennes de Natolin.On bâtit ainsi ensemble un lien académique fort, une sorte de tradition d'échanges et de partage, contribuant ainsi à la consolidation de l'espace académique européen.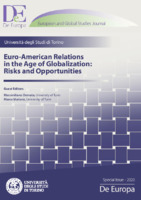 The special issue of De Europa on "Euro-American Relations in the Age of Globalization: Risks and Opportunities" includes multi-disciplinary approaches to the current Euro-American relations, with a focus on the new scenarios created by the Trump administration as well as at the crises and transformations in transatlantic relations during the three decades between 1989 and 2019.