Sfoglia documenti (1 in totale)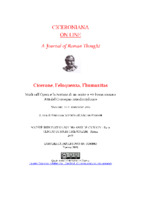 Il fascicolo III, 2, 2019 di
Ciceroniana On Line
ospita gli atti del
Convegno interdisciplinare
svoltosi a Macerata, il 13-14 novembre 2018, organizzato e curato da F. Boldrer e A. Fermani e dedicato al tema
Cicerone, l'eloquenza, l'humanitas. Studi sull'Opera e la Fortuna di un orator e vir bonus romano
.
Ciceroniana on Line
volume III, 2, 2019 publishes the proceedings of the interdisciplinary conference
Cicerone, l'eloquenza, l'humanitas. Studi sull'Opera e la Fortuna di un orator e vir bonus romano
. The conference took place on November 13.-14., 2018, in Macerata and was organised by F. Boldrer and A. Fermani.